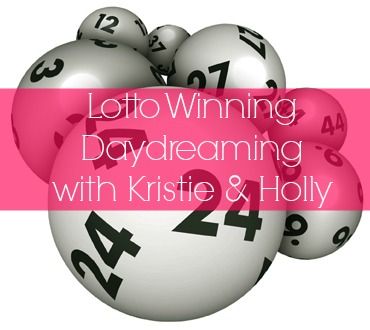 Okay you know a linky is going to be fun when you open BlogLovin and the first eight posts all doing the same link up! Either my blog collection isn't that diverse or its a really fun and entertaining link up, and its the latter!
What if I won the lottery?
Duh! What smart woman (or man) hasn't dreamt up the scenario?
I shall never have to drive myself anywhere again
. Have you heard about the traffic in Austin? Seriously...it's a panic attack away just to run to HEB for some eggs.
I shall move to a gorgeous home on acreage away from noisy neighbors
. Likely not in Austin, because even if I was a millionaire I'd still be a realist that I could have a BIGGER house and MORE space anywhere else in Texas.
I shall have someone clean said house
. I plan to fill my days with exercise, swimming in my private pool that some cabana boy will care for, and messing up the kitchen or craft area with recreational cooking, baking, or crafting. I've got over a thousand pins to get to.
I shall never ever ever have to shop again.
The hired "personal dresser/shopper" will handle te madness of trying to make me presentable. Said shopper will make sure the makeup and hair people show up on the days I have to venture into the city for one thing or another.
The kids trust funds and college accounts
shall be fulfilled and provided for as dictated in the collegiate-parent agreement on file.
But nope, haven't thought about it before whatsoever.