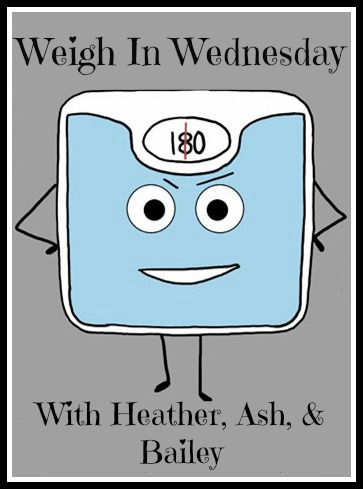 In light of the last two week's detour in this journey, I figured it would be a joke to link up with my normal Workout Wed group via SkinnyMeg, right? What kind of bragging/posting would it be if I was just chiming in with:
Monday - nada...just try not to faint at work.
Tuesday - continue sleeping in instead of getting up for the treadmill, lie about it to friends, and then just do your workout video over your lunch break.
So I'll take a bold move today instead.
I weighed in.
This isn't bold as in "wow, omg you have never done that before April!" kinda bold....but more about the slippery slope that it becomes. I do think I have issues with the scale, I have a love-hate relationship with it but can't break up with it for long spurts of time. I don't trust myself to be alone.
But recently I felt different. Because of my 4:30am alarm and a disgruntled hubs, I had started sleeping in the guest room on my workout eves. It helped both of us sleep better and I was able to get up and moving without any guilt. It was a win-win for both of us. The only loser in the mix was my faithful scale. If you think of our separate beds as a divorce, hubs got the scale in the split! what?? I had a better relationship with that scale than he ever did, I should have gotten it. I have faithfully for over three years (minus pregnancy) stepped on it at least twice a day everyday. EVERY SINGLE DAY. Here I was in the guest room and unable to weigh in. For seven weeks...I did not weigh in except for once on the weekends.
This was huge.
Why? Because despite not having that control and info in my head of a number, I was truly feeling comfortable in my skin and how my clothes were feeling and how toned this muscle looked or whatnot. I was feeling GOOD about my body showing my improvements instead of the scale.
I decided to jump on this morning for two reasons.
I could and....
I started a new medication and weight fluctuations are part of the side effects in both directions. Obviously I'm more worried about weight gain, but loss of appetite is also possible.
Here I am today, August 14th at 37yrs old now weighing in at 152.8.
Still maintaining a 50lb loss after a severe car accident, and pregnancy with complicated recovery...at now at 37yrs old instead of 29 when I started this journey.
ha..you thought you'd get a picture, didn't ya? hehe....maybe another time.