Linking up to
The Good Life Blog
for Five for Friday! I feel like its almost a cheat of a Friday post with all the linkups, but it is the most fun getting to pop into so many new blogs that I would have never found otherwise!
1. This has been quite the week with work, I didn't even post much. Instead I tried my best to keep up with everyone else's blogs. The ease of BlogLovin's phone app? Yep, I'm easily satisfied.
2. I can't wait to jump into Pumpkin Spice anything....but this week we are still hitting 98*. October is next week and my coffee-fast is overwith, so I will partake even in the 100* weather if it kills me!.
3. Propel packets. Just a smidge of flavor to enjoy my water after my midday workout...if it happens to have vitamins or whatever else they are selling, I'll take them. But for the most part, its weak enough for me to enjoy it.
4. Getting one step closer to no specialist doctors for LittleOne. She was downgraded to 'as needed' for followup with her gastro and we have pushed the need for an endoscope out until 'as needed.' We are still in murky area of what exactly is going on, but her growth is steady and management of her food allergy is getting easier.
5. I have seen the 'light'! ha! No really, I saw the scale on Saturday and FREAKED the freak out, since then I have been 100% faithful and on track with logging my foods and avoiding the bad stuff for me. I survived the bakesale and am avoiding the queso this week.
****************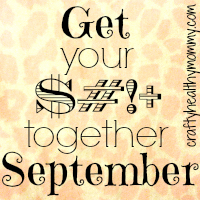 Fit Friday Recap for #GYSTS

Saturday - 30DayShredL3
Sunday - 30DayShredL3
Monday - 30DayShredL3 + 1.2miles + Jillian Michaels Yoga
Tuesday - 3.3miles + Insanity Weights + 30DayShredL2
Wednesday - 30DayShredL2 + 30DayShredL3
Thursday - 3.25miles + 30min Zumba + Insanity Cardio Abs
Friday - 30DayShredL3 + RockinAbs
I found my groove again for some treadmill time last week and this. I realized with the 5K tomorrow that I had to at least warm up my legs again! Jillian is good and my shoulders and abs are feeling it, but I needed to get some bonus cardio in so you can see I logged some miles in. Tomorrow is the Austin ColorRun, not my kind of thing...but I let my son pick it since he's running his first ever 5K and he wanted it to be an adventure. Now that he's seen the 'what to bring' warnings and the route he's backtracking alittle, but we will do it!