I am loving Fridays more and more recently now that I'm learning to chillax with the kidlets. Despite the house being on the market for the month of August, the house and upkeep has been minimal since we are all on high-alert 100% of the time. I'm loving the extra down time with the kids, which is counterbalanced with the new school hours, homework, and soon soccer practice.
I have reconfirmed my love of food boards on Pinterest, but to incorporate the first of my loves, is the new method of minimizing the time-suck that is Pinterest. No, April, you do not have to glance at Pinterest with 'everything'....you simply should use the search box or at least the category functions.
But I realized, they really should add some categories more in line with what we women really want:
Chocolate
Cheese
Coffee
Purse
Shoes
I know you have 'food and drink' but really?? Coffee and chocolate both are worthy of their own respective categories, I can guarantee you, my dear Pinterest, that those boards will be even more popular than all the seasonal/themed coffee filter wreaths will be ever be.
really?? a possum and babies wreath?? really!




Its September and that means cooler weather ahead!! No more triple-digit weather (hopefully) which means I may actually get outside to run.
It is September which means I can justifiably start Christmas shopping. Okay the reality is I say that every year and every year I end up scrambling getting lackluster gifts after December 15th when I realize Christmas is only 10days later. But maybe, just maybe this year will be different??
****************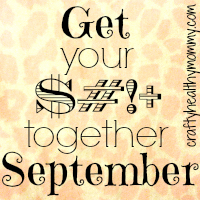 Fit Friday Recap for #GYSTS
Monday - (Labor Day) - 30DayShred (day2)
Tuesday - 30DayShred + 1.2 miles + ShaunT's Rockin' Body
Wednesday - 30DayShred + Insanity
Thursday - 30DayShred + 1.6miles + Zumba
Friday - 30DayShred + P90X Plyo
I'm thinking of bumping up to Level2 of the Shred video on Sunday for Day8 instead of waiting to Day10 simply because I may get stuck on Level 2 and need a cushion of a day or two before that leap to Level3 I've heard so much about.
Anyone else trying to hit #GYSTS hard? How's it going for your September Challenges?
And yes, the first week of no coffee has been successful.
I haven't hurt anyone at home or at work, that's a success!
I get more done before 5am than most.
What did you do for yourself today?