1. I ate like a PMSing teenager with not a care in the world yesterday and attacked a chocolate candy dish, it ended up in my trash can.....including all the empty wrappers.
2. Since giving up coffee this month, I have returned to my old faithful Chai. I am an Army brat that was raised in Germany, with British extended family, so being a tea drinker is in my blood....but I just found and fell in love with chai lattes only about five years ago.
3. Today was LittleOne's picture day at daycare and at 30months, she finally has enough hair to wear a bow. And she cheesed it up for me to 'practice'
4. Its almost crockpot season!!! I can't wait to get to use it more regularly. I am a lover of soups and stews year round, but have to admit that its hard to look forward to soup when its 108* outside.
5. I secretly am flattered that LittleOne carries around the 30DayShred DVD case and says its "momma."
(if I ever get gutsy enough, for fun I may try to do a mock picture to do a side-by-side)
****************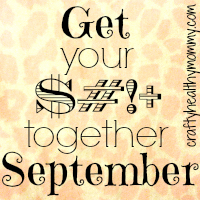 Fit Friday Recap for #GYSTS
Saturday - 30DayShredL1
Sunday - 30DayShredL2
Monday - 30DayShred*Level 2 + TaeBo BootCamp
Tuesday - 30DayShredL2 + 1.2 miles + Brazillian Buttlift Sculpt
Wednesday - 30DayShredL2 + 3.5 miles
Thursday - 30DayShredL2 + 1.6miles + Zumba
Friday - 30DayShredL2 + P90X Cardio
I'm jumped up to Level2 on Day8 of the month like I thought I would. Its definitely harder and I'm working up a quick sweat in those hard 20minutes, but I have to confess something. 20minutes? that's it? I feel guilty if that is the only thing I'm getting in the mornings, don't get me wrong...its a solid 20minutes! That's why you may have noticed I've tried to get a mile here or there to help out, plus I don't want to lose the endurance I'd worked up to before this month.

and finally, have a great Friday the 13th!!!
muhahaha.