Linking up to
The Good Life Blog
for Five for Friday! Check it out, its turned out to be MASSIVE!
Last week I linked up before 9am and was still in the middle 100s.
1. Monday I had a very rare treat...sadly its uber rare, but I enjoyed it. I was able to attend the first PTA meeting of the year without kids. Even LittleOne! This is big, that despite the fact that she is 30months, Hubs is just now comfortable with managing the separation fit that ensues if I leave her eyesight. There may have been a bribe involved, but I managed to sneak out of the house.
2. This week has killed me at work, forcing me to miss my mid-day workouts and overall just a cluster of a week, but having a little girl who is getting obsessed with bows in her hair and making sure she is dolled up? Its good enough for me to spend more time on her hair than mine.
I broke down and am sporting a pony today.
3. Eggplant was on sale....is there anything more perfect than that? (favorite recipe ever is on tap for next week!)
4. Hubs and my dad are planning a ride this weekend, motorcycles that is. While they get to enjoy the great outdoors and cursing as men will do, I will be visiting with my one and only aunt who is visiting.
Needless to say, she's my "favorite Aunt."
5. And finally, today at work is the bestest day EVER (but not for my thighs).
Its Queso Friday.
Seriously, I think I mentioned that Queso is a food group here in Texas and our office is a prime example. September is the big month for charity contributions and we have to raise money for our annual donations right? While we do the traditional bake sale, which is Wednesdays...this year we added in a bonus of QUESO FRIDAYS.
Each department is making different versions or styles, and this week is my groups' turn.
A building of close to 300 people and we've got to feed cheese to them.
Its all for United Way of Central Texas.
My thighs will pay the fee for the good cause.
****************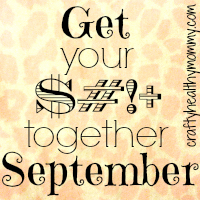 Fit Friday Recap for #GYSTS
Saturday - 30DayShredL2
Sunday - 30DayShredL3
Monday - 30DayShredL3 + TaeBo BootCamp
Tuesday - 3.1miles + Jillian Sculpt 45min (different) + 30DayShredL3
Wednesday - 30DayShredL3 + Insanity Cardio
Thursday - 30DayShredL3 + Zumba
Friday - 3.40miles + 30DayShredL3 + P90X Cardio
As I said above in my 5forFriday, I confessed that I have had a week of pure insanity at work. I'm cranky about missing some of my workouts, but grateful that I am at least keeping up with my challenge. If it weren't for my early morning time, I would have failed big time this week.
Its 20 days into this month and I honestly haven't seen any change yet, I'm bummed because of it. I think I may have actually gained weight. Boo. I am determined to finish it up and return to coffee precisely at 7am on Tuesday October 1st.
Toying with the idea of a mileage challenge for myself in October.