I'm an utter moron, or perhaps a smart cookie.....but I realized at like 5pm Saturday that it was only the 31st of August and NOT the first of September. Do you realize what that means??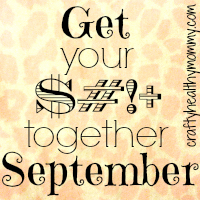 I started my personal challenge a day early!? I was so eager to start hitting it hard, that I jumped the gun and skipped coffee Saturday morning.
Honestly it didn't dawn on me until after I posted a picture of my lucky day at Target when I randomly received an itty bitty too-small-for-Jenks sized sample of a pumpkin cinnamon dulce latte.
(Note:if you get the Jenks reference, we are destined to be BFFS.)
I posted it and then noticed my phone calendar and the luck that I hadn't messed up the challenge on day one! Ha! Whew...that was close though!

Sunday was much more focused meeting both goals. It wasn't until 830pm that I met Jillian and the level one of 30day Shred. I realize I need smaller weights for these kinds of workouts. I currently use 8s and 15s for concentrated weight work, but these movements I really need a set of basic 5s.

Monday was our family day of more swimming and visiting family. It was a private pool so I actually wore my goal bikini (first one ever)...even though I am currently a solid ten to fifteen above my smallest. But I still felt good, I may not be the same number, but it still fit comfortably...and most important?
I was having a blast in the pool with my kidlets....the whole reason I'm working on ME. To make memories WITH them.



Any other #GYSTS members??

How's the first couple of days worked out?