As promised, I completed some new challenges for the month of September and while it wasn't hard at the time, I am grateful that it is over! ha!
Thanks to Amber at
Crafty Healthy Mommy
for coordinating or at least inspiring us to Get our $hit Together for September (or what we ended up tagging as #GYSTS) it really did help having friends on the blogworld and Instagram encouraging each other on and venting together.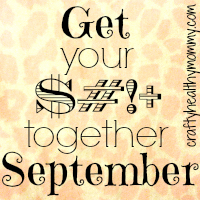 My goals for September included completion of the 30dayShred and a voluntary detox from coffee.
Honestly? The coffee was harder than Jillian!

Level 1 = 8days
Level 2 = 7days
Level 3 = 10days
Level 2/3 alernating = 5days
The workouts being only 20minutes made me feel lazy, to the point that I started jumping on the treadmill for a quick mile before doing the video. It actually helped being warmed up and it helped put me in the mood for a workout moreso than Jillian.
So admittedly I didn't simply do the Shred video as my only workouts, which I didn't plan to...but for the sake of before/after information it needs to be said that the Shred was simply a new workout to try IN ADDITION to my midday workouts and some treadmill runing.
While I did take before pictures, there is zero point in sharing since nothing is visible at all.
Weight: 154.2 / 152.8 =
1.4 pounds
Bust - 34.5 / 34.5 = no change (thankfully!)
Waist - 28.50 / 27.50 =
1.0 inch
Arms - 11.50 / 11.50 = no change
Hips - 41.0 / 40.5 = .
5 inch
Top of thigh (sadlebag) - 25.50 / 24.50 =
1 inch
Quad (4in above knee) - 21.0 / 19.75 =
1.25 inches
Calf - 15.0/ 15.0 = no change
Total inches? 3.75 inches
Total weight? 1.4 pounds
Pictures? I did take before and after....but there is nothing visible from my crappy cell phone pictures! I'm not complaining, I obviously am more toned than I was.
So now into October!!
My challenge this month? MILEAGE!