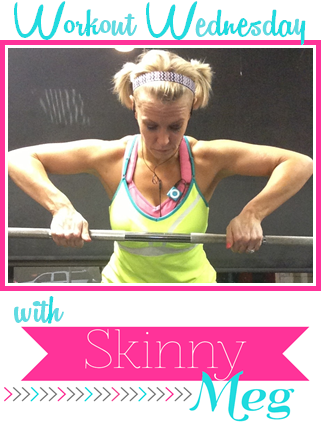 If anyone has read along with this ride, you may have realized that I have my 4:30am workout time slot but also reference my 'midday' class or workout. This is my wellness class at work, basically a few of us reserved a conference room with a projector and we rotate around videos that one of us has purchased. We rotate between P90X, Insanity, Brazillian Butts, Jillian Michaels, TaeBo, you name it, we will try it! This is encouraged at our workplace and this week we were asked to be included in our internal e-paper with some quotes, and I was 'sure' I can give a quick quote.
ruh roh....
Yesterday they came into our class with a camera?! Don't they know this is a room of now 8 women who are in workout gear?? Luckily we were good sports and they caught us BEFORE starting our class for the day.
We smiled, we flexed...
(I still hid my thighs and ghetto booty behind the poster)
I've had several people ask, and I'll admit it.
We don't have showers at work....ewww?
Yes I sweat and on Insanity days, it is a solid sweat! But it is so worth the little redness and refreshed makeup. I bring two washcloths to work, one for during the workout to mop up, but the other is my 'handshower' cloth. And while its fundamental and basic, it gets me through my afternoon with a basic wipedown and washed face. I eat lunch at my desk while letting my redness wear off and then freshen up the makeup to finish out my day. Voila!
Another key thing about my workout/wellness group is that yesterday was also our measurement day. We have it scheduled every three months to see our progress. Having the group encourage each other on is so helpful, and having an employer who encourages and promotes 'wellness' in the workplace has been very supportive in 'spreading the knowledge!'
Take advantage of your calendar on your phone and set up those measurement reminders! Or think of a way to get some activity in your workday? While we do some intensive videos, we also can see a little walking group of men (who I suppose are too proud to do videos?) who now walk the parking lot during this same time. We have a few people only come and do 30minutes since they only have 30minute lunch blocks.
Admittedly on paper, so do I.
But my boss is awesome and says as long as my work is done and nobody is complaining then he's supportive of his employees being active (I think he secretly knows that it keeps us healthier and therefore at work more often than out sick, doesn't he?)