This is a first time getting to jump into this linkup hosted by
KTJ
!! and it was completely unplanned that this is my post for today, it must have been destiny.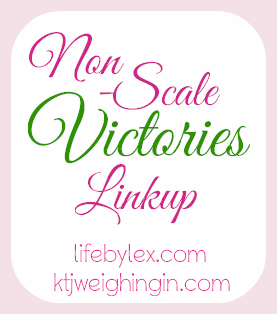 This morning was like every other where I'm scrambling out of the shower to quickly get dressed to stay on schedule with the kids' routines and such. I get home from the gym around 5:45 to shower and get dressed by 6am! yikes, right? At 6:05 I have thrown all the food stuff into lunchbags and knocked on Kiddo's door to make sure he didn't ignore or snooze his alarm.
Needless to say, I typically wear the exact same thing everyday of the week. Black slacks and a blouse, black socks and shoes. Done.
But this morning I got a wild hair and reached further into the closet for a pair of pants, one from before my daughter. A pair from my 'skinny days' when I was a solid 20lbs lighter than I was this morning...but I was throwing caution to the wind and tempted the gods and tried on the old favorite pair.
and they fit.
comfortably.
enough for public viewing.
get your groove on Jean Luc!
This simply means that despite that ugly number on the scale, I am almost as small as I was when I was 20lbs lighter. Solidly reminding me of the importance of measurements being a better representation of health (even if that number is still ugly on the scale.)