Hola Monday!!!
this is the refreshed and determined April here.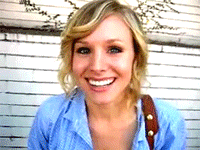 No, not me...that is Anna, I mean Kristen Bell!
(If you have a LittleOne, you will get the Anna reference from Frozen)
(I just wish I had her smile and spunk!)
I gotta make up for the last month's lackluster attitude. I've been working out and eating well, but my attitude has just sucked (at least I think it has!) So I am sucking it up and pushing through with things that keep me happy.
I am following along with Val and friends with their "90day Bikini challenge," but modest me can barely show my face online, I doubt a swimsuit pic will be shared publicly. So most likely I will be sharing measurements and workout clothes at most. Good enough right?
I will take my measurements tonight and a 'before' picture for my purposes at least.
But more importantly, I have a kickass full cardio week ahead of me, and I need it!
The AM routine?
Keeping it simple with at least 3 miles every morning Monday-Friday =
15miles
The PM (lunchtime) routine?
Monday - P90X Plyo
Tuesday - HipHopAbs Full Body Circuit
Wednesday - Insanity
Thursday - P90X Core
Friday - Cardio BootCamp
Yeah, hella lot of cardio! I will sweat this funk out of me!