I'm losing track of my days since being home with a sick littleone. I seriously thought it was Wednesday until I checked my reading backlog and noticed all the TBT posts. duh.
I have to admit that I just left the McDonald's play area for the 2nd time this week since Monday. Yuck, but yeah I have limited options near the house when they call and say the magic words of 'time for a showing?' Normally this would not be an issue, my normal day would have LittleOne breathing well and at daycare and me getting my lunchtime cardio class done at work. Who knew that the first two days of putting the house on the market would include an asthma attack and fevers, which means this Doctor Mom is in the house.
I don't share pictures too often especially for TBTs, but something happened today at McDonald's that made me reminiscence to the 'old April,' and thought it would apply to the Thursday theme of Throwback.
I faced the reality of a long standing fear I used to have.
It was the fear that set me off in this journey to better myself.
Being home with a sick kiddo and showing the house does not mix well, but luckily we have that McDonald's play area just down the road to entertain her. You see, normally we are with big brother who takes pride in his title and does very well, but today it was just her and me.
And today, a premonition from almost 2006 happened. LittleOne had a freak out at the top of the play scape. No hero brother around left who? Yep, me. I had to climb up there myself.
And that is precisely what I thought of way back when in 2006. I had a 18month old boy who didn't have a hero older brother. This situation is precisely why I made the choice to change myself. I didn't want to be the parent on the outside and needing help because I was scared to get stuck. I used to be afraid that people would look at me thinking I was lazy or uninterested in my kids, but the reality was that I was always scared to get stuck in something or even worse, break something.
But today as LittleOne and I giggled our way back down from the top of that germ invested playscape, I was not met with affirming smiles from other moms who've been in my position. I was met with snobbery and side-eyes. What??
It caught me off guard, but then I remembered who I was in 2006.... and I probably would have not been so eager to give a kudos to that mom either. I would have felt guilt. Guilty that the old me couldn't have done that, the old me would have been too embarrassed to even try to shimmy up there.
So I have to convince myself that it is envy or guilt. Envy that I overcame that fear (in addition to my 60lb loss) and didn't hesitate to squeeze and shimmy up the playscape to get my LittleOne to squeal and smile again. And guilt, that they haven't had their 'aha' moment to make that change if necessary.
So to you McDonalds mamas giving me the glare down?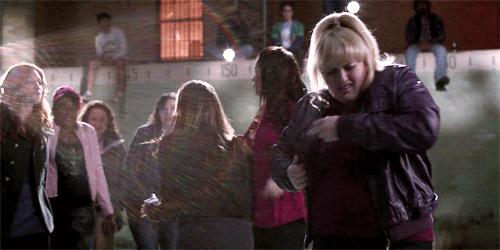 Just wait....you may get the same message eventually and then you will never judge anyone no matter their size. You don't know anyone's story or background.