For this week's #FTF (Follow-Through-Friday) I'm pointing to my Texas sweetie,
Cait at
Your Favorite Girlfriend
!
She's been busy lately with school, but she's still a Texas rockstar
Have I mentioned how much I've loved having a gym membership? That I love having my gym only 4minutes away from the house? That it is typically myself and at most five other people in the gym at 4:30am? That I've earned the 'wat up' nod from the meatheads because I'm a regular now?
I am going to miss that.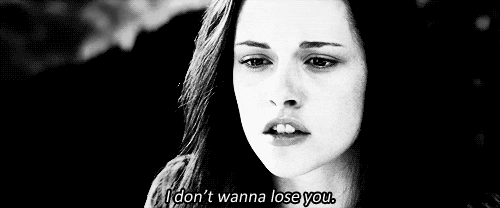 My relationship with the gym is practically a dysfunctional relationship just like Bella and Edward right? I am slightly obsessive about the gym and get remorseful when I can't get to it. I miss it, I crave it. In the end I become a different person? A stronger person?
With the impending house move and transition, one of the first change directly
impacts my relationship with G.
Wednesday I had to break up with my Edward, my Gym.
This wouldn't be so hard if my personal treadmill wasn't hiding behind a stack of boxes.
This wouldn't be so hard if I hadn't gone to the doctor on Monday and was given the riot act for 'over-medicating' myself for a sinus infection and pain. Antibiotics and a speech later, I've spent the week having to chug an additional 24ounces of water to my current 120oz. I don't think my bladder would appreciate my running this week anyway.
So this was doctor imposed rest week.
Monday - arms/back + elliptical 20minutes
Tuesday - 3.10miles (27:33!!!)
Wednesday - LEGDAY
Thursday
Friday
But this breakup and doctor won't hold me down. I kept my food on track and kicked it into high gear. As I focused again on my food intake due to the limited activity, I realized that I'd fallen back into a low-carb habit and fell away from the macros set out to better improve my nutrients and fueling. My net intake has been embarassingly bad. Like I would likely get another riot act if a doctor or nurse saw it.
This weekend's food prep and menu planning will be more aware of this and I've enlisted the help of a friend who's studying for his trainer certification who wanted the test of trying to come up with a valid macro setting for me and my dietary complications. Good luck to him! haha.
Hubs has agreed to re-organize the garage clutter so that I can access my treadmill and get my mental wellness, run in next week. Along with the food awareness,
I hope to be back to myself and not a pouty depressed Bella.

The house stuff will be my primary goal this weekend. I've avoided it for the last month, but we are now under 30days left in this house and weekends are the only time to hit it hard. I will be busy purging and packing up LittleOne's bedroom while she's gone for a sleepover at Gramma's.
Have a great weekend everyone, share with me your plans!
They have to be more fun than mine?