It is another #FTF (Follow-Through-Friday) with my
beautiful
buds!
First of all, can we remark that here we are in May, as in the 5th month of the year and this weekly linkup is still going on?? That most of us have checked in weekly (minus one or two) for four solid months of 2014? We deserve a present!
Fine, the only present or reward for now is the satisfaction of knowing we are mindful and trying to do our best week in and week out. I still have to rely on that mindset since the scale is packed away. I need to actually take a starting weight and measurements for my
Betty Rocker Challenge (register HERE)
to motivate me to keep going strong. So this time around I'm going to have to solely rely on the measuring tape, which is a good thing.
PS...I am no way affiliated with the challenge, I'm simply a participant in a free online challenge group! If you search #makefatcrychallenge or #bettyrockerchallenge on Instagram, you will see that it is a very large community of men and women playing along weekly and sharing.
Enough about looking forward.
This week has been a total cluster, yesterday's post shared that much.
But I am positive that this week still qualifies as a good week, a non-failure week.
Which translates to a WIN week.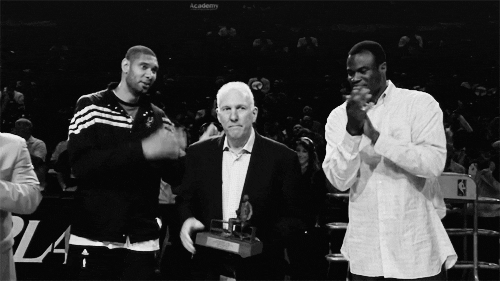 Coach "Pop" is a winner too.
(If you don't know this reference, then I need to refresh everyone on my love for
my SAN ANTONIO SPURS and the 2013 Coach of the Year, Pop)
Monday - 3.10miles (30:27) + Brazillian Butt Cardio + Asylum Abs (PM)
Tuesday - Arms and Back + 5.54miles cycling (20:05)
Wednesday - 3 mile walk
Thursday - rest
Friday - 3.1miles(29:38) + Insanity Interval (PM)
So while I feel like I took Wednesday and Thursday off from a "workout," the reality is that I was too busy packing boxes and moving them back and forth at work. Did I sweat? Yep. Did I get sore? Yep.
Does it count? I'm thinking more yes than no.
My chocolate fast? Still going strong with today being Day9.