Last week for my Sunday mealprep I tried something new for Hubs. I may be a creature of routine and can eat the same thing for weeks on end for lunch, but again I'm reminded that I'm just weird. Hey, once you figure out what works for your schedule or calories or points or whatever, some of us just find comfort in the known rather than the unknown.
No, I'd rather have someone else be the cook
I digress. So I needed to shake things up for Hubs, break out of usual chicken, veggies, brown rice variations I had served him for the last month. I ended up hunting down a grilling cookbook, because if the weather permits (and this is Austin, it always permits!) then I'll grill outside faster than you can "Throwdown."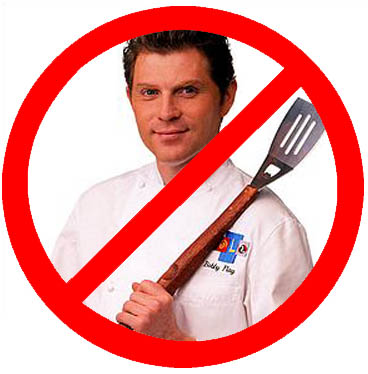 Changes
change from chicken breast = boneless thighs (he prefers anyway - despite my objections)
steamed/prepared veggies = now grilled on the kebabs
brown rice = now brown rice mixed with jalapeno black beans.
Jerk Chicken Kebabs
You can use chicken of your choice, cut into pieces larger than bitesize but small enough to skewer.
Marinade
1 seeded and chopped jalapeno
2 tbsp of white wine vinegar (I used regular)
1 tbsp Worcestershire sauce
1 tsp thyme
3/4 tsp ground allspice
3 tsp vegetable oil
1/2 tsp salt
Kebabs
(vegetables of choice)
mushrooms
red or green onions
zucchini or squash
green peppers or other colors
Using my food chopper, toss in the jalapeno to mince without using your hands (I'm a wimp) and then use the chopper cup to make your marinade with the vinegar, Worcestershire, spices and oil.
Place cut chicken pieces into a quart size baggie and pour marinade over the cut chicken pieces. You can do this ahead of time to let it marinade longer, but I did it for about 30minutes and it was very flavorful.
Continue to cut vegetables to kebab size (one to two inch pieces)
Prepare grill, charcoal or gas whichever is most convenient....(I prefer gas for my simple cooking nights)
Put the older kids to work to make patterns on the metal skewers (if using wooden, let them soak for at least two hours) rotating veggies and chicken pieces
Place directly on grill if you like grill marks, or foil if you don't want to clean the grill.
I tend to purposely undercook for meal prep knowing that the meat will be microwaved during the week, but cook to desired temperature.
There isn't a recipe for the rice and beans, simply a can of flavored beans mixed with brown rice for some added carbs to round out the meal.
And there we have a new mealprep idea for the rotation that let me use the grill and add some flavor and ease into our workday lunches.
What did you pack for yourself or others this week?