Woah....this past weekend was a whirlwind that ended up with a slap of reality hitting me hard.
Not only was it my son's birthday. It was his 10th birthday, a double-digit child?? That means I've actually aged 10years. I finally accepted that fact that yes, I have to admit to having a 10year old kidlet. I have to admit that despite working out and getting my walk on enough for an average of 130% of daily activity, I made the decision to treat the birthday boy to a cookie cake.
Big mistake.
sigh....20years.
(Yes that means I'm too old to be blogging, oh well.)
So this week has got to be spot on diet wise, right? I mean I can look awesome by Friday night right?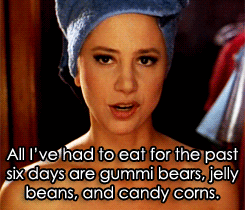 Call it peer pressure, guilt for becoming a busy working mom, or an anti-facebook non-oversharing person, but I succumbed to the the personal phone calls and harassing texts from the few that I actually do still care about.
And while I'm not a FB posting fool, the rest of the world is.....and I'm a voyeur.
Happy Monday everyone!!
Or to me its more like Happy 5 days left to look friggin awesome
before revisiting all the old frenemies friends.