**I received this product in exchange for my honest opinion. **
I have been struggling with my "workout-fro," you know what I'm talking about. Even girls with straight type hair know this problem.
Okay, if not, I'll break it out for you:
Hair + workout sweat + summer heat = "Workout-Fro"
It makes no difference of the texture or type of hair you have, everyone gets it. It is an entire industry, the taming of any hair. I think I noticed three full aisles of hair products (not even counting my favorite section of coloring!) where we try to either tame the frizz, create or enhance curl, or deny it with straighteners or whatnot.
What's my favorite product?
a ponytail
no wait...a pony bun for my ultra frizzy days.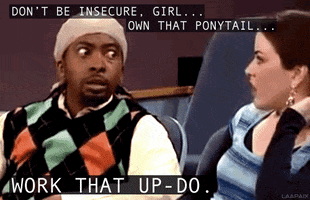 This used to work just fine for the randomness of my workouts in the past, but now that I regularly workout and acquire the WOF (work-out-fro) daily, I need to try a little harder to be more presentable for work.
Luckily there is a slew of new Etsy store trying to 'tame the fro' but one has totally taken over and won my frizz-fro loyalty.
I first 'met' Jasmine through her fitness blog. She is an amazing mother who happens to be a nurse who decided to share her love of her signature fleur de lis and created
/FleurtyBands
She has the best ribbons to create her nonslip fro-tamers I mean, nonslip headbands.
Despite my freakishly small or warped head, this band kept my frizz calm enough during my workout and also in my attempt for reasonable professional appearances with my pony bun.
Check them out on Etsy.
They tamed my WOF enough to even share a picture...which is a rare thing lately.
Sorry for formatting glitches but I had to finalize this post on the phone.