So, how'd everyone do this week?
I know there are several of us who are hitting it hard with this last month of 2014. This was my first week feeling my mojo coming back, I can't complain other than today's slip-up food wise. I think we all could have some sordid tales of our warped relationship with food or emotional eating, so I won't repeat what we all know.
Short story?
Bad emotions lead to bad choices and bad attitude.
I was pissy today, and its Friday, which is the Old April's day cheat day.
I actually got in the car today at lunch with my bad pissy mood and drove to Taco Cabana. I had every intention of my 'usual.' A kids meal which is one beef taco with two corn tortillas along with a 3oz queso and tortilla chips. Not horrible in the real world of choices, but still a pretty big indulgence for someone 'on track' right? I parked and walked in to get my lunch for to-go.....and fate stepped in to make me stop and think in the means of a super long line of people in front of me.
So much that I got back in my car and ended up at Wendy's. I still ate out, I still indulged, but it was just enough of a pause and reminder to make me make a better choice.
Result?
Wendy's kid meal with a grilled chicken wrap, no sauce...took it out of the tortilla and had mandarin oranges. *The carb count is with the tortilla, so I don't have to claim those 25g..woo!
It wasn't perfect, but I don't have the regret this afternoon and this means I'm still winning.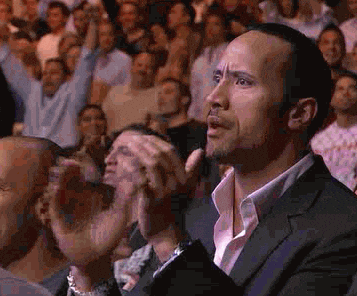 Thanks Dwayne!
I jumped back into this mission with quite literally
quadrupling my activity from last week month!
Monday - 2.0 miles, .5miles incline 7/10, then .5mile run.
Tuesday - Jillian Michaels' Trouble Zone 45min
Wednesday - quick HIIT at home, 20minutes
Thursday - Zumba 30min
Friday -4mile run planned for tonight (eek, I better!)
I must admit that I did not have nice words for Ms. Michaels' this week at all, my arss and thighs are rocks and I'm still walking funny (*snert) from our Tuesday video!
And for some fun this Friday? I can't help but share these.
*hehe...this is the one suitable for the masses...caption it yourselves*
Have a great weekend ya'll!
Just think, 5 days is 23.8% of 'creating a new habit' done!