First things first, I don't have a magical number to share today.
I didn't get on the scale.
I honestly was going to skip today's post because of it,
but then realized that is the first slippery step to backtracking on this mission.
and I refuse to undo this regained momentum already.
This week isn't a full bust, in fact Monday was a killer day!
A run in the morning AND a lunchtime cardio class of cursing Jillian again!
Plus a blog post and the work-work?
I was raring to go all day, badabing badaboom
But then, as if karma came around to say:
'Hold the phone April!
you've used all your awesomeness up today and you aren't worthy of a single minute more.'
At approximately 8:32pm Monday night,
the wonders of Austin Texas hit me and I've been down for the count since.
Allergies, sinus crud, death by ear and sinus pressure.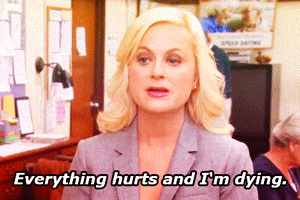 But I posted to not skip out on the weigh-in post due to a bad weigh-in, but a non-weigh-in and why.
I am trying my best to not eat away the pain,
but rather drown it in hot tea and coffee.