This past Friday we held a baby sprinkle for a new coworker....and as always I have to be the odd one in the group and try to bring something homemade.
I feel like the odd one only because everyone else buys their dish/food but they all come to expect me to bring the 'homemade' good stuff.
Honestly? I do it mostly so I can guarantee at least one semi-healthy choice and one that I can be guaranteed of its ingredients. We have several new staff who also have some food sensitivities, so they look forward to my contributions as well.
This 'sprinkle brunch' was at 9:30am and is predominantly a breakfast. Instead of the business practice of donuts or bagels, this is Texas and we do breakfast tacos. We are already one step ahead with that choice in that we will have eggs and protein choices rather than just the carb-heaven of bagels and such.
To counter the taco choices (which we are blessed to get corn options for us GF type folks) I had to come up with something for the breakfast timeslot, but healthy.
Enter Pinterest and google.
One of the recipe pages with great examples of healthy and delicious recipes was found at
ALOHA.
With ALOHA's mission to
inspire health and happiness, I want to contribute an idea
for their
dishes for 'sharing' or what we call, a potluck dish!
Breakfast brunch type thing?
Baked good easy for potluck or 'sharing'?
I decided to revisit an oldie by goodie I hadn't made in quite some time, my Zucchini-Banana-Oatmeal muffins. I won't repeat that recipe, because its all there in its old font and no picture post ready for your scrutiny (yes I will update eventually.) But in addition to the muffins, I figured we needed some fruit to round out our brunch.
I shouldn't even share it because it is too simple to call it a 'recipe!'
Custard-like Fruit Dip
4oz small container of whipping cream
12oz yogurt (I used a fat free vanilla)
1 small package of pudding mix (I used vanilla)
Whip cream to a cool whip consistency with soft peaks

Place yogurt into a large bowl for mixing, pour in half of the whipped cream and fold in to incorporate

Before completely mixed in, sprinkle 1/3-1/2 of the dry pudding mix into the bowl

Mix completely to ensure the dry mix gets thoroughly mixed in.

Test the mixture if still runny, add in more of the whipped cream (the more whipping cream, the lighter the custard texture)

Once mixed completely, cover with a tight lid or cover with saran wrap to prevent a crust from forming. Fridgerate overnight or at least two hours to allow the dip to set up.
I made a fruit tray with strawberries, raspberries, blackberries and my kids have taught me that marshmallows are always fun to add into fruit! ha! Enjoy!
I have to admit I added too much of the pudding powder into mine and it truly st up like a custard and made the dip very thick.
Hubs in his envious metabolism immediately thought of using the dip as his custard for napoleons. I mean, how much harm can a little puff pastry thrown into the mix of my healthy fruit and dip cause? Ha! His coworkers are more hearty, so maybe next time we will do it his way!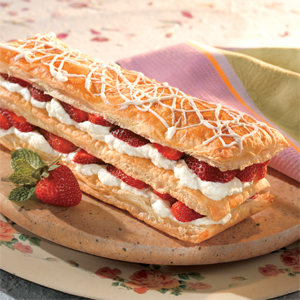 Not exactly clean due to the powder, but it is super simple to make and impress friends and family (or new coworkers!)
What would you bring to 'share' at the table?