Tuesday: Plumber stand-by duty = zilch
Wednesday: Kiddo appointment in San Antonio = zilch
Thursday: 30min Zumba + 15minute stairs
Friday:
T25 Speed 2.0
Seriously,this week was just a complete bust.
I knew Wednesday was going to be a rest day due to the schedule, but life and house throws curve balls at you suddenly on Sunday nights don't they?
Enter the water falling out of the ceiling of my master closet.
And no, there isn't a bathroom immediately above on the second floor.
Pipe in wall, between first and second floors.
Five holes in my walls.
Two days without hot water.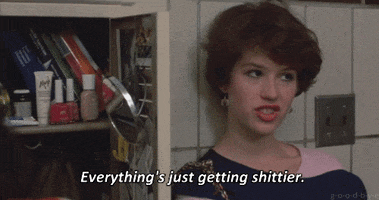 I worked out Monday but then Tuesday was trapped at home for the plumber.
Nordy is dead, so I ended up calling in a REST day.
But wait, Wednesday was scheduled a REST day.
fark.
I hit it hard Thursday and Friday, but things are not pretty around here.
I will have time next week to spill my emotional garbage about this healthy drama.
but....
John Hughes Movies....if you don't love them, then you are likely going to always read my blog and say 'wow, she really is an old fart.'
We can still say to this day, that our movies from the 80's kick any other generation's movies butts.
******
Congratulations to
Heather
for the MealEnders giveaway!!!
Any other people who are interested, MealEnders is giving us all a 30% off coupon!
So for two weeks, all "runners up" for our recent giveaway will be able to buy MealEnders at 30% off. Just enter coupon code WINNER-TOO at checkout. To place your order and learn more about the product, visit www.mealenders.com.