Today's post may be out of my norm, but I awoke to see all the hubbub about this week's Met Gala where fashion and class is supposed to shine. Perhaps I'm becoming old or my modesty is showing through here, or I lack a true sense of fashion....but all the talk was of the 'booties.'
source: cdn inquisitor
Congratulations ladies....you three are wearing less clothes than Madonna and Miley Cyrus.
Miss Kim, the most famous booty babe.
This is not a flattering angle whatsoever for anyone, but no. I love your curves, but you do not have to try so hard. Kanye is a joke in fashion and do not let him dress you up. The man only knows how to wear black on black and a lack of a smile. White and sheer does not do your darker complexion well. I would prefer you in something similar to Kendall's green dress with your hair in a slick down hair or one of your famous buns.
Kim = Just no. Make it emerald green with darker sheer.
Miss Beyonce', please stop.
Both of you stop...there is absolutely no need for grown ass women to be showing off their ass just to get the world talking. Self respect folks! And your "I dream of Jeannie" pony makes you seem like a 14yr old teenager trying to look grownup and sexy. You are a fabulously healthy woman, a mother....so please spare us the need to compete with other booty women who all come off desperate for the booty attention.
source: bollywood.life
Miss Jennifer (because I refuse to refer to you as JLo),
While you may win in the best booty dress competition, my rant to you is the same as Beyonce', why must you even compete. Styling was spot on with the hair and complete look. The color was perfect, and girl you got the bod. Nobody will ever take that away from you. But it isn't necessary, this is your booty world and Beyonce and Kim are just trying to play in it, they know who runs the booty world.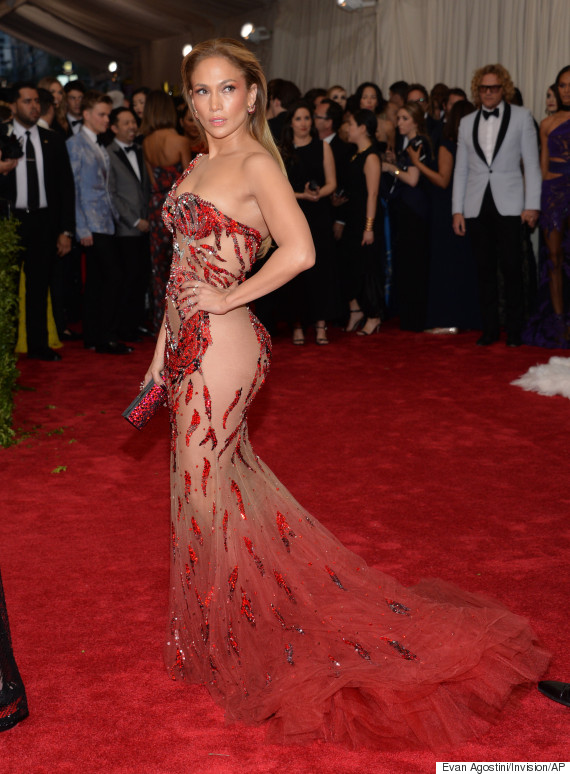 source: Huffington Post
Women, all of you, the young, the older, the thicker or thinner....no matter who you are:
Please keep your dignity and stop competing to out-do each other and become the beauties you truly are within yourself. Do not demean yourself and your wonderful bodies to that of what you think or perceive the world expects of you. Change the expectations of others, do not play into it.
You are stronger than that.
Danes and Tiegen are both showing side-boob and look respectable. Take notes ladies, there is the right way and wrong way to do daring fashion and not look like a competing teenager.
*This is the most judgy post I've ever written....must need more coffee*