Don't know if anyone heard, but there was a little soccer game going on this past weekend?
It was just about the biggest thing for women. Not only were women around the United States, watching but turns out everyone was watching as it is now recognized as the 2nd biggest television audience for any sporting event.EVER.
From
SBNation:
"The fact that the 2015 Women's World Cup just became the most-watched soccer event in U.S. television history is a big "eff you" to the doubters who say that America doesn't care either about women's sports or soccer."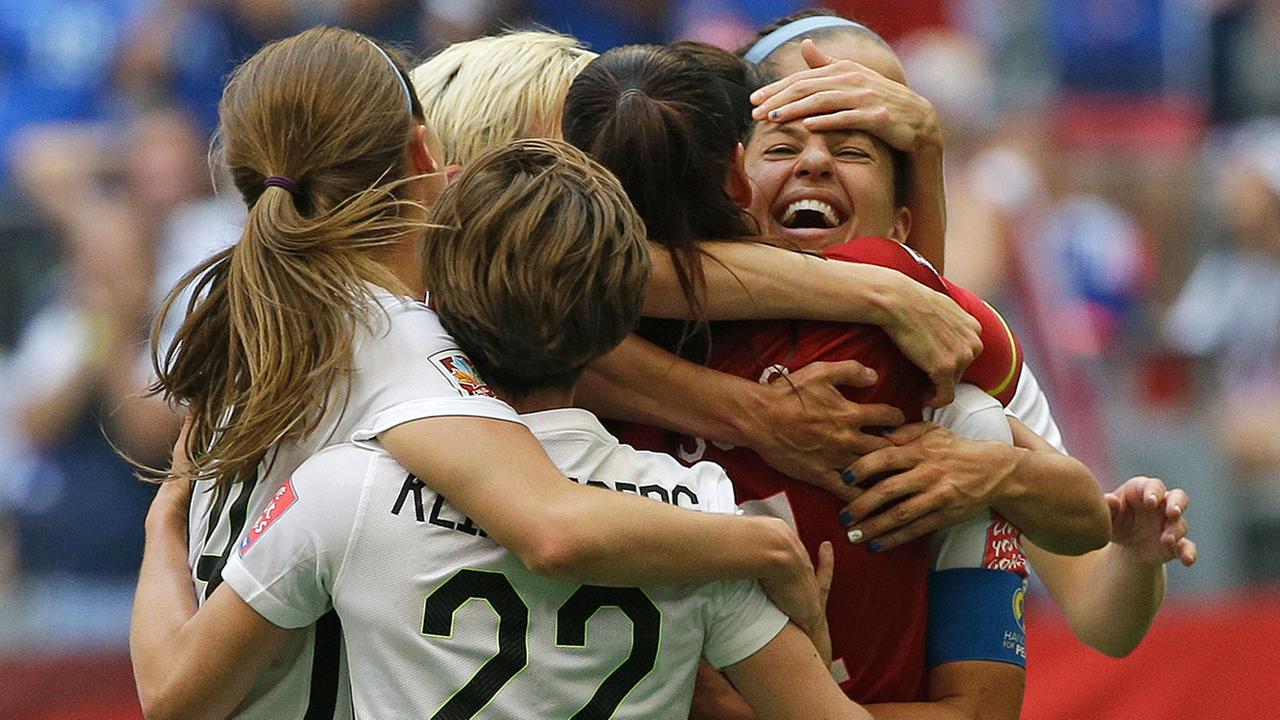 cdn.abclocal.com
These women worked their butts off and it showed.
I along with 43.2 million other people watched the entire 93minute game plus 30minutes of celebrations and trophies. I loved that my family watched this together, my Hubs and 10yr old boy as well as my impressionable 4yr old girl. I loved that Hubs and Kiddo both got into the game and kept remarking on how fast and entertaining the match was (as well as the prior two we watched.)
These girls deserved this win, this hoopla, this imagery.
ymca soccer images
My 4yr old immediately went for her ball and wanted to kick it around the yard while I grilled dinner after this game. And for that, I thank you Women's National Team. Thank you Hope, Abby, Carli, and all the other women who spent the two hours kicking some butt from very first two minutes!
But.
My joy and pride in our awesome ladies was soon distracted.
Not by their actions, but by the spectacle that came with their trophy ceremony.
'Mom! look at this??
Why are those girls so dressed up?
And why are they wearing high heels on the field??'
My son, a 10year old athlete himself questioned this.
My daughter, a 4yr old who likes to wear a superhero cape,
kick a ball like her brother and is a ninja-princess in training,
luckily did not see this.
To you MR. FIFA (because it is obvious the organization is led by fudgey-old males):
Save this bs type of imagery for your oldschool, anti-woman ideology. You just had the world's largest audience to promote your sport, your organization, your brand. You had the chance to show the world that the US and others' that futbol or soccer is here to stay and only going to get bigger and better thanks to these amazing athletes. Female athletes of all shapes and sizes, respectable professional women. This was insulting on so many levels.
Hope Solo is the centerpiece of this picture....not the models!
Luckily my family opted to watch from afar as our athletes graciously accepted their medals and trophies and celebrated with their loved ones.
Oh by the way Mr. FIFA,
This also happened and America's heart exploded even more that this could happen and be broadcasted and shared around the world.
A married couple kissing in celebration.
Abby Wambach and her wife, Sarah Huffman


Congratulations to our athletes and to little girls around the world!!