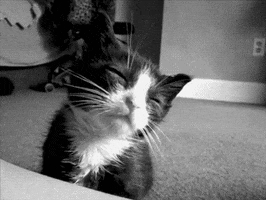 I'm feeling off-kilter today....
It actually started yesterday but I went through the motions of my workouts. I tried, but the stars were against me that despite my struggle, I made it to the gym by 4:50 and the activetrax program wasn't working. Urgh. I had to wing it with my weights, so I focused on a shoulder and back circuit.
My lunch class kicked my arss, T25 Lower Focus? Don't know if it was the work I'd done already this week, but my balance was completely off and I struggled bad. Bad.
I managed to get the mom job done last night and forced myself to shower and get to bed by 9:30. I said aloud 'you will run tomorrow! just three miles, nothing special....but April you need to push through whatever this is.'
I repeated it to myself at least three times because my head was already thinking about sleeping in and resting.
And this morning I let my body decide instead of my brain or pride. I struggle with this idea of listening to my body. Its hard. Resting or taking it easy? I'm always afraid its a slippery slope and find myself ten pounds up and miles away from where I left off. If I trusted my body to tell me things, I'm pretty sure I wouldn't have ever gotten to that 200+ weight.
But today I'm telling my brain that this is okay, that my body is telling me it needs a break or something. I am sipping propel water and a nuun not for hydration or my gallon goals, but hopefully to get back in sync. My electrolyte balance is likely out of whack and last year I wouldn't have realized this and its importance.
So today the snooze button was hit at 4:35am.
And then it was turned off to allow the 'gym done-get home and shower' alarm
to wake me up at 5:28am instead.