Just a quick driveby to get back on track in here as well as at work.
I'm alive and kicking, but overworked and sore.
I wasn't able to blog at all while I was on my little work trip to Ft. Worth. They worked me beyond my usual smiling and assisting duties. I represented my semi-decent-sized arss off for five straight days of 20hr days.
While I consider last week 'off' from the gym, I did manage to run a full 5miler plus another day of almost four. But the week was wrought with cruddy feelings. I assumed the 'off' feeling was just gluten overload and/or dehydration for three days which were both true....but this time, "Doctor" April was wrong. Cranberry juice is part of the recovery, if ya catch my drift.
Fun.
While I deal with antibiotics, I can't go full out like I had been with doubles everyday, I'm adjusting my schedule day to day based on how I'm feeling. Not setting things in stone this week and trying to let my body breathe before kicking it up a notch. Today I survived a 4:30am whole body circuit lifting session and an Insanity30 at lunch, but tomorrow I'm aiming for some walking miles and possibly Jillian's kickboxing, but I'm not going to feel guilty if I'm tired for a 2nd cardio.
But, to balance that out and to stop the conference induced sugar cravings, I'm going at it lowcarb this week to get rid of the sugar cycle. I'd been doing really well since my Whole30(ish) June with my sugar intake and I actually liked not being dependent (in my head) on the sugars and chocolates.
And if you haven't noticed my love for Jensen yet, get used to it...he's a regular for my #MCM.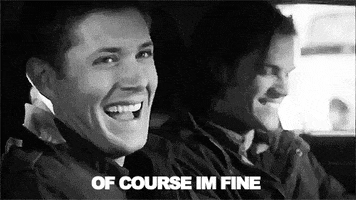 (and then my computer doesn't agree with me and won't let me use my Jensen gifs, so instead I will not-so-subconsciously tell you to watch Sam and Dean. You are welcome.)